Scaffolding For Hire in Hornsey - London
SCAFFOLDING PRO
Scaffolding Services in Hornsey
Looking for Scaffolding companies in Hornsey? Then look no further than the specialists at Scaffolding PRO Ltd.; for the highly-qualified scaffolders who will be with you from the start through to completion on all scaffolding services.
Having many successful years in the scaffolding industry; we know exactly what type of scaffolding is needed on your building – allowing you to receive the finest solution for all needed work on your property.
Looking for Scaffolders in Hornsey – London?
A few words from our clients
We always appreciate the feedback from our clients
This was our first time hiring scaffolding on one of our projects. They had the most competitive pricing. They were very responsive with all aspects from quoting, installation, repairs and pickup. In short, great company to work with.
Owen B.
Firstly, I had a lot of experience with scaffolding needs. There is no company like Scaffolding PRO. Always on time and responsive. They take safety seriously and all of their material is up to date. Highly recommend.
Abijah R.
They arrived on time and most importantly, they erected the scaffold completely around my house; professionally and quickly. Very good price, best of 4 quotes I received. They allowed me some extra time at the end when my works over-ran.
Matthew C.
Scaffolding PRO Hornsey Projects
Here you can see some of our completed projects. Whatever work you require, whether it be emergency scaffolding, you need quickly erecting or scaffolding services to remove asbestos from your property, rest assured we can help.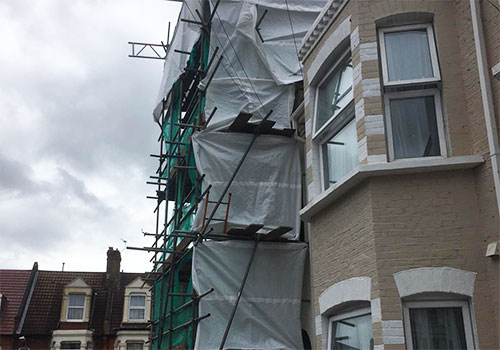 SCAFFOLDING PRO
Hornsey Scaffolding Company
Whether you require scaffolding in Hornsey; for a short or long period of time; you can truly rely on our team of scaffolders to meet each one of your requirements; as well as provide you with straight forward impartial advice on all our scaffolding services.
Scaffolding Specialists in Hornsey, N8
Throughout every project Scaffolding PRO takes on; our residential clients in Hornsey, N8 can expect a fast, professional and reliable service accompanied by high-quality workmanship. Our experience within the industry allows us to guarantee safe, domestic; access solutions from chimney scaffolding to larger home maintenance projects.
Get a FREE quote!
Get a free, no obligation quote on scaffolding services in Hornsey. Click on the button below and tell us a bit about your project.
Scaffolders to hire in Hornsey
No job is too small or too large for our team of scaffolders; as they are dedicated in all work they undertake; paying great attention to detail of the structure of scaffolding they produce throughout the Hornsey area. Health and safety is our main priority; which is why our team will assess what scaffolding is suitable for your building – ensuring you receive a safe and efficient scaffold that fits within all your specific needs and budget range.