Scaffolding For Hire in Wembley - London
SCAFFOLDING PRO
Scaffolding Services in Wembley
Are you looking for tough, safe and strong scaffolding for your project in Wembley? We have worked on a lot of projects in Wembley over the past 10 years; and take pride in ensuring that our customers throughout Wembley are left nothing other than completely satisfied. We're specialists when it comes to scaffolding; and can supply and erect scaffolding to support a range of residential properties including flats, homes or new builds.
Scaffolding made to the specifications of your project. Call your expert scaffolders on 0800 311 8004.
Looking for Scaffolders in Wembley – London?
A few words from our clients
We always appreciate the feedback from our clients
This was our first time hiring scaffolding on one of our projects. They had the most competitive pricing. They were very responsive with all aspects from quoting, installation, repairs and pickup. In short, great company to work with.
Owen B.
Firstly, I had a lot of experience with scaffolding needs. There is no company like Scaffolding PRO. Always on time and responsive. They take safety seriously and all of their material is up to date. Highly recommend.
Abijah R.
They arrived on time and most importantly, they erected the scaffold completely around my house; professionally and quickly. Very good price, best of 4 quotes I received. They allowed me some extra time at the end when my works over-ran.
Matthew C.
Scaffolding PRO Wembley Projects
Here you can see some of our completed projects. Whatever work you require, whether it be emergency scaffolding, you need quickly erecting or scaffolding services to remove asbestos from your property, rest assured we can help.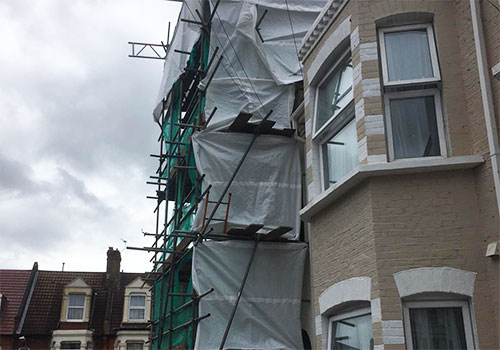 SCAFFOLDING PRO
Wembley Scaffolding Company
We're renowned across Wembley and have a strong customer base in the area; and this is due to the excellent scaffolding services that we provide. When you choose Scaffolding PRO trust that you'll receive scaffolding to the highest standards which is highly resistant and durable.
Whatever your scaffolding requirements, we have the solution
As a team of professional domestic scaffolders, with plenty of years' experience under our belt, trust you're in the best hands. We've undergone extensive training as well as possessing all of the skills and knowledge necessary for a professional scaffolding services. We work in a range of areas and can assist with a number of products, at Scaffolding PRO, no job is too big or too small.
Get a FREE quote!
Get a free, no obligation quote on scaffolding services in Wembley. Click on the button below and tell us a bit about your project.
Affordable Scaffolders for Loft Conversions, Roofing and other projects throughout Wembley
We've designed and supplied scaffolding for some really big, complex projects in Wembley. Regardless of how large or challenging you feel your project is; get in touch with us, and let's discuss about your project. On the other hand, if you're looking for a simple scaffold to carry out repairs or extension work to your home; you're in the right place too. We have a lot of experience in designing and supplying scaffolding for home use! In particular, we carry out scaffolding works for customers having new roofs installed, loft conversions carried out and other domestic projects.